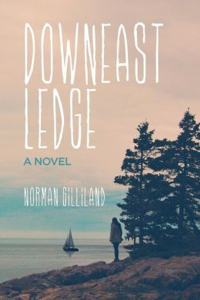 Hear Downeast Ledge on Wisconsin Public Radio's Chapter A Day,  May  4-22, 2015.
Downeast Ledge: A Novel
Amber Waits has lived all of her 23 years in the quiet coastal community of Ashton, Maine. When she takes a job as caregiver to a summer resident–dementia sufferer Walter Sterling–she finds herself drawn into the unraveling lives of his secretive wife Geneva and their reckless daughter Karen, and she has to muster her courage and resourcefulness to save her friends and herself from disaster.
"You'll be rooting for Gilliland's well-drawn cast despite all their human flaws–or perhaps because of them. A rewarding, touching read."
–Kelly Harms, author of The Good Luck Girls of Shipwreck Lane.
Order your copy of Downeast Ledge here!
NOW AVAILABLE AS A KINDLE eBOOK at Amazon.com.
 THE 2014 DOWNEAST LEDGE MAINE BOOK TOUR IS HISTORY
See "News & Events" for Details.