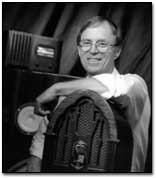 Norman Gilliland began his first book at age 11 and is still working on it.
In the meantime, he has written five others: The award-winning historical novel SAND MANSIONS; its stand-alone suspense sequel, MIDNIGHT CATCH; plus the adventure romance DOWNEAST LEDGE. He's also written two books about classical music, GRACE NOTES FOR A YEAR, and SCORES TO SETTLE.
He's also produced the first dramatized audio version of the complete BEOWULF as well as an audio drama version of OEDIPUS REX.
He was in the seven-member cast of Eric Simonson's film A Note of Triumph: The Golden Age of Norman Corwin, which won the 2006 Academy Award for Best Short Documentary.
Since 1983, he's been a producer at Wisconsin Public Radio.
Some "highlights" along the way:
Being deported from Czechosoavakia. A feat never to be repeated since that country no longer exists.
Being registered as a vagrant in the city of St. Louis.
Canoeing the entire Mississippi River without falling in once.
Cooking dinner for the Vice President of the United States.
No doubt, more adventures are just around the corner….